The expanding taste of cheese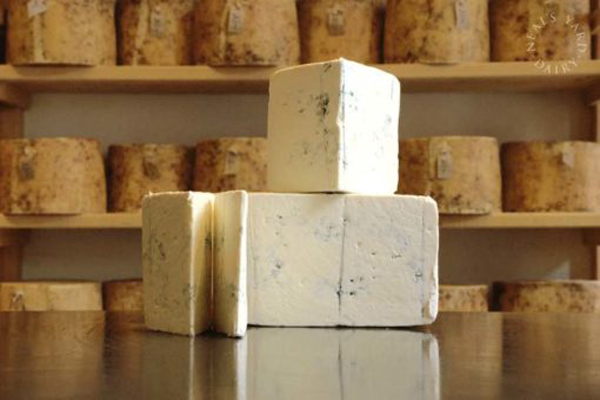 Photo courtesy of Neal's Yard Dairy: www.nealsyarddairy.co.uk/product/our-cheeses/harbourne-blue/
I went along to a tasting day at a speciality food magazine, whose labels now adorn products throughout the UK. The Great Taste Awards offer star ratings for various items from food manufacturers, and I find it's a good way to expand my taste palate a bit and try some dairy products that might not necessarily show up at the other cheese shows – as the cheese is dusted on crisps or wrapped in pastry. It also gave me an excuse to pop to Neal's Yard at lunchtime and buy some cheese, as it is around the corner in Borough Market.
So, the judges were a cross-section of the food public, ranging from deli owners to bloggers. There were a couple of disputes about marmalade in the morning session, and the afternoon saw a set of cheese-filled pastries that made us want to eat the plateful (you're supposed to leave some for others to try). We were going to raid the kitchen for them as they offered a perfect mouthful of cheese, a touch of onion, and crunch from the pastry. We resisted and I applaud my fellow judges for restraint.
This is where you'll find dairy growth, say the pundits. People are looking to have not just cheese, but cheese in a product that combines all the tastes and crunchiness that truly make for good eating. Bakery is a hot area for dairy growth, as it requires not only butter and milk and yogurt, but cheese as well for the important gooey factor inside.
It was largely delicious and some of it needed a bit of work, but it was a very satisfying day, as another judge said. We had the team inputter write up our comments, put the stickers on the plates and sent them off to be re-tasted by the other tables. Then I went home and had a salad for dinner. Topped with a bit of Harbourne Blue from Ticklemore Dairy in Devon. Yum.
Related content