Discovering milk in Germany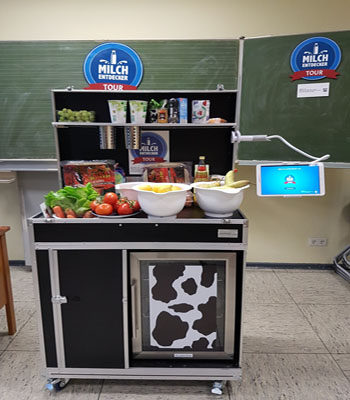 As part of the North Rhine-Westphalian school programme, the Milchentdecker-Tour (milk discovery tour) will visit North-Rhine Westphalian primary schools in October with a mobile kitchen. Students of the third and fourth grades will have the opportunity to demonstrate their ability to prepare dishes with milk and dairy products from all over the world. Indian Lassi, Spanish milk rice and American wraps are on the menu. The pupils are guided and supported by domestic specialists.
"Of course, parents are also welcome to attend our cook event at the school. Maybe a few tips from the kitchen are for them, "says Anneliese Upgang, one of the 15 trained domestic specialists that accompany the milk discovery tour. "The students are very enthusiastic and are very happy to learn how to prepare fresh food."
Afterwards, the dishes are eaten by all. The aim of the project is to promote the nutritional competence of children in primary school with an example of a multifunctional food, milk, and to inspire them towards a diet with fresh products.
Related content