RABDF crowns 2018 Dairy Student Award winner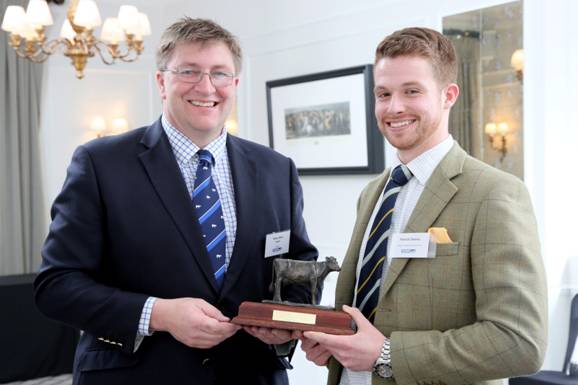 Patrick Denny, a final year student from Harper Adams University, has been crowned this year's RABDF Dairy Student Award winner.
After beating four others in the final round at the Farmers Club, London, Denny was presented with a £1,000 cash prize and trophy provided by competition sponsor Mole Valley Farmers.
The runner up was Aimee Ash, also from Harper Adams University.
Denny and Ash, plus the three other finalists were chosen from entries from seven agricultural colleges and universities across the country. Each gave a presentation on 'The UK Dairy industry in the next ten years' before taking part in a discussion session chaired by Mike Green, editor of British Dairying.
RABDF vice chairman Peter Alvis, RABDF council member Robert Craig and Chloe Cross from Kite Consulting were this year's competition judges.
Alvis comments, "Patrick had a clear understanding of the challenges and opportunities set to face the industry in the coming years with great ideas of how to exploit these for the benefit of the sector.
"RABDF is committed to encouraging new entrants through our training courses and awards and we were impressed that four of the five finalists were from non-farming backgrounds. This clearly shows the desire of high calibre young people to join the dairy industry is as strong as ever."
The competition saw students invited to complete an essay based on a case study prepared by Kite Consulting. This featured a 300 dairy cow family unit, currently achieving marginal profitability and managed by a farmer seeking a long term plan to ensure the viability of the farm for his son when he retired.
Five finalists were shortlisted from the essay entries and invited to attend the final round interviews.
Related content