Brits expected to spend £2bn on cheese over Christmas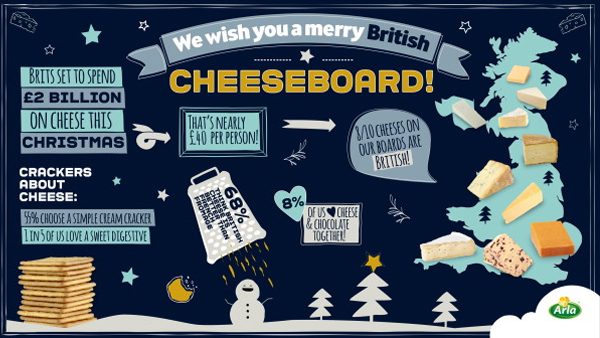 With Christmas fast approaching, research by Arla has revealed Britain's 2018 yuletide cheeseboard will be almost entirely made up of British cheeses, with the much loved Cheddar coming out on top.
The survey of 2,000 consumers found that 68% of Brits say British cheese is better than their French neighbours. It also found that they spend an average of £37.50 on their festive cheese.
Arla, which includes 2,400 British dairy farmers amongst its owners, estimates it will sell over 7,000 tonnes of cheddar through UK retailers this December.
Arla owner, Darren Furse, is a seventh generation farmer with 320 dairy cows in Sutcombe, Devon. He said: "Christmas Day is like any other day for dairy farmers. The cows still need milking, feeding and the farm looking after so we can make sure we're meeting the demand there is for British made Cheddar all year round.
"I'm very proud to be one of Arla's farmer owners, making milk that goes into delicious cheese. As we're always striving to make great quality, affordable produce, it's a great feeling to know we've played a part in the milk and cheese products that make Christmas dinners taste amazing. From the cauliflower cheese, to the cheese and crackers, it's certainly shaping up to be a dairy merry Christmas!"
Christmas is a key time for cheese eaters, with over three quarters (76%) of those surveyed saying that Christmas wouldn't be the same without it. And it's not just for the mature, with the younger generation (16-29 year olds) splashing out an average £44.
The research also shows that Brits like to eat cheese as simply as possible with more than half (55%) opting for a cream cracker, 32% opt for a seeded cracker, 23% go for a water biscuit, and one in five (20 per cent) love the sweet/savoury hit of cheese on a digestive biscuit.
When it comes to condiments, most eat cheese with some pickle (39%) or a blob of chutney (34%) but around one in ten are a bit more adventurous and pair it with chocolate (8%) or Marmite (9%).
Brit's top twenty favourite cheeses:
Cheddar 66%
Red Leicester 41%
Brie 36%
Stilton 28%
Camembert 27%
Double Gloucester 26%
Wensleydale 23%
Cheshire 23%
Wensleydale with cranberries 20%
Lancashire 18%
Halloumi 18%
Emmental 17%
Parmesan 16%
Goat's cheese 16%
Feta 16%
Cheese with flavourings like gin 13%
Yorkshire Blue 12%
Gorgonzola 10%
Manchego 8%
Roquefort 9%
Related content