Your local cheese source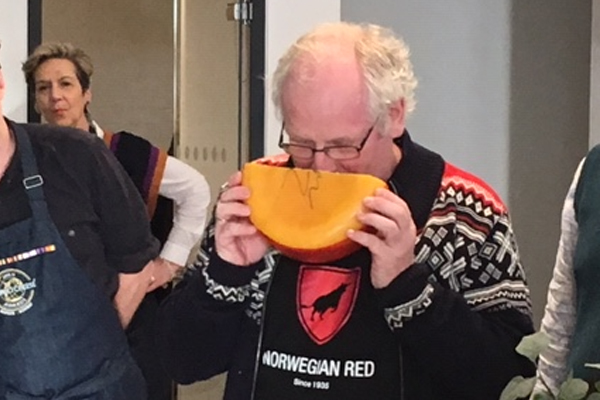 Jørn Hafslund of Ostegården
Ah Norway. I enjoyed my very short visit there at the beginning of last month, and last week I was invited back into London to meet the winning cheese makers from the World Cheese Awards, and to eat some amazing cheese. These are the days when my job doesn't feel much like one, and more like a collection of interesting people who enjoy what they do and are happy to talk about it. As John Farrand said at the awards, it feels more like a family reunion when you get a lot of cheese makers and cheese mongers together.
There were 12 cheeses at the Guild of Fine Food, all of which were previous winners of World Champion cheese awards, or at least a Super Gold or two. The UK's Cornish Kern from Lynher Dairies was on hand, as was Ossau Iraty from Fromagerie Agour of France.
There was a map given out of Norwegian cheese makers and where they are located. This map covers everywhere from Oslo and Bergen to the very far north of the country, and it looks like an awesome trip to go on.
Norwegian producer Tingvollost's Gunnar Waagen, the maker of Kraftkar, the previous Norwegian winner, was there to discuss his cheese, which is a 12-month aged blue cheese. The current holder of the title, Jørn Hafslund of Ostegården won for a Gouda-style cheese, Fanaost. He employs 12 cows to make his cheese, and after a bit of inspection and a close sniff, he halved the cheese and we all enjoyed a piece or two. It was a worthy winner.
Norway has about 5.2 million people, versus other countries with much larger populations. It does punch above its weight in the cheese stakes, however. This event was evidence of the results of a small, but dedicated collection of people who are making the cheese that we all want to eat. But really can't, unless you head to Norway. Which again, sounds like an awesome road trip.
That being said, the UK alone has 700 different types of cheeses, and your country probably has a lot of amazing cheese that is being made on a very small scale, but doesn't travel very far. I encourage you to seek it out.
Meanwhile, I have scrumped a bit of Kern for myself (thanks John!) and will be enjoying it this week. I am also going to gear up for the season and get some lovely cheese ordered from my local cheese vendor in Greenwich.
Related content