Freedom of choice and movement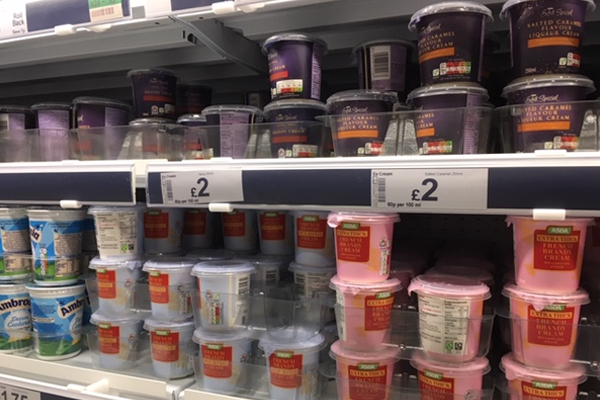 One of the interesting things about my job is that sometimes I spend too much time in the dairy aisles, staring at cheese and yogurts. This year, the cheese aisle is about snacking. The amount of products is truly awesome. I selected a few ham and cheese and pepperoni and cheese snacks with wraps, to feed to my offspring. I am also happy to report that Paw Patrol has made inroads in the snacking cheese market. And it was only indecision that made me leave the seeded, caramelised onion cheese sticks behind from Cathedral City.
Also, what was once fringe (kefir) is now headed into the dairy aisle. I selected a mango with turmeric option to try, from several choices (very nice, Collective Dairy). Grabbed a mint chocolate version of Yazoo, a popular milkshake, which went down a treat with the child. He is a big fan of all things Frijj and Yazoo.
I then eyeballed the vast selection of brandy and liquor infused creams for pouring on various puddings for the festive season. I have become obsessed with steamed puddings lately and this seems to be a trend too, or maybe just in our house. With cream or custard, I am not picky.
Protein is the highlight for the yogurt aisle. Every label proudly announces its grams of protein and a lot of yogurt has moved on from being merely Greek. Now it's Kvarg (Swedish), which is actually a quark, or Skyr (Icelandic yogurt), complete with berries. I recommend either. And if you want a squeezable option, it is available in more than one size now.
Last stop was the alternative drinks, where nut milks have a firm hold, but where a2 and goat milk were also residing. No matter what the others say, you can't beat a carrier like dairy for nutrition. And it seems we will have it all on the go.
Related content