The ripple effect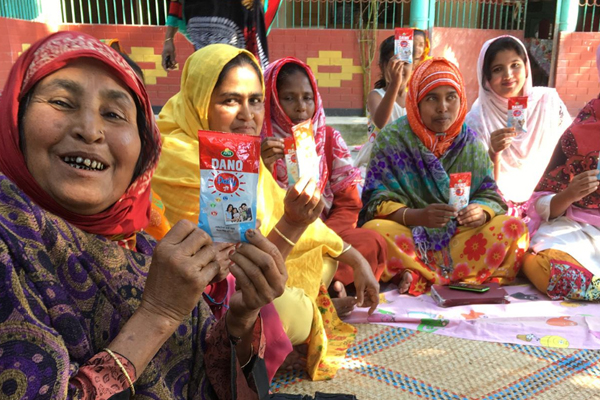 Image: Arla
Arla Foods has employed a group of female micro-entrepreneurs in Bangladesh, to supply much needed nutritional and affordable dairy product to rural areas. Dano Daily Pushti is a fortified filled milk powder, available in 20g sachets at an affordable price. However 70% of the population lives in rural areas, so an alternative sales model was called for. Equipped with a bicycle and with a tablet and the sachets in their backpacks, groups women reach people in rural parts of the country, cycling from village to village. They are known as Arla's Pushti ambassadors and, as well as selling products, the women conduct courtyard sessions to educate people about health and milk nutrition generally. Currently there are around 200 women, but Arla hopes to have 5,000 in the future.
This shows that small things do matter. One woman on a bicycle with a collection of packets is not much, but there is a ripple effect outwards from that woman to her community. Maybe her children get new shoes, or school books or eat more healthily. More people understand nutrition and how to feed their families. It all helps.
Closer to home, I was privileged to cheer on the local group, Large and Legging it, a running group for BMI 30-plus women in my town, run by the Big Red Bus Club, a local family charity (www.thebigredbusclub.com). The women were running the Vitality Big Half marathon, which finished up by the Cutty Sark in Greenwich.
Again, a woman deciding to get fit two years ago is not a big thing. But the group of them are quite an inspiration, and some of them are now under 30 BMI, with benefits their health, and contributing further to their family's health and wellbeing. There are also health and nutritional advice talks, with the most recent being a local motivational health coach and body massage therapist coming along with handy hints and tips for the runners.
All this is a benefit to the health services of the two countries, and to the population at large. So get moving, and start that ripple. You never know how big a wave you will inspire.
Image source: Arla
Related content