Society of Dairy Technology welcomes new president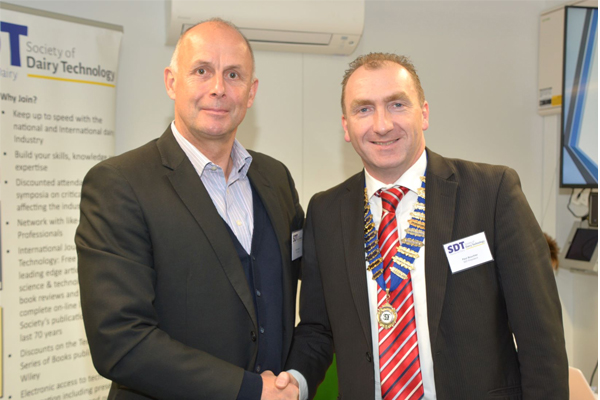 Paul Bouchier (right) is the new SDT President
The Society of Dairy Technology welcomed new president, Dr Paul Bouchier of Food Science Appliance at its 75th Annual General Meeting in November.
Out-going President Soeren Vonsild handed over the presidency after a two-year tenure. In his inaugural address, Paul thanked Soeren for his hard work during his presidency and outlined his vision for society for the next two years.
Paul said: "With a strong passion for the dairy industry I have been a member of the Society of Dairy Technology for many years and I am very excited about this opportunity to support the society to move further forward. I see our society as the home for all UK and Ireland Dairy Professionals and I encourage everyone to engage, be active and work together, leading the society to support dairy industry needs for a stronger future."
Dr. Paul Bouchier graduated with a PhD from Teagasc, Moorepark, Ireland in 1999 and has since held a number of both technology and managerial roles across the dairy sector.  Having worked with both academia and industry in both Ireland and the UK, most notably with Kerry Group, Wyeth, Glanbia and Dairygold, he has developed a significant knowledge within the dairy industry, including how it interacts with academia. He is and has been a director on a number of company and state boards driving strategy for the betterment of dairy technology. Paul is currently director of his own company 'Food Science Appliance' where he 'manages science to benefit business'.
Related content