Fonterra downturn in 2019 but hopeful for 2020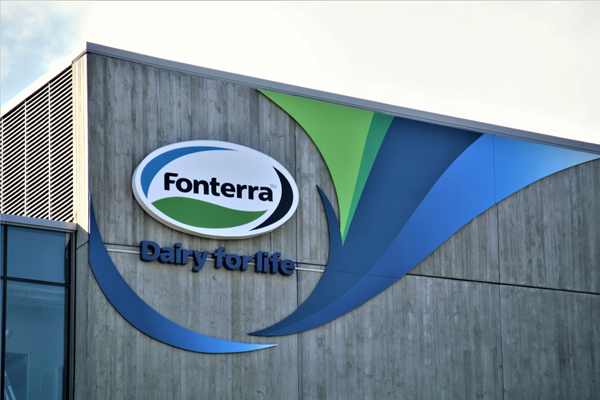 Fonterra has announced its FY19 annual results, the final milk price for the 2018/19 season, its refreshed strategy and changes to its operating model and management team.
Fonterra CEO Miles Hurrell said that 2019 was incredibly tough for the co-operative as it reported a net loss of $605m, but it was also the year Fonterra made decisions to set it up for future success. Milk collections were up 1% to 1.5bn kg, while normalised revenue declined 2% to NZD$20.1bn. Normalised earnings before interest and tax (EBIT) was $819 million, down 9%, the co-operative's free cashflow was $1 billion, up 83%, and the return on capital was 5.8%, down from 6.3%.
"Many of these calls were painful, but they were needed to reset our business and achieve success in the future," Hurrell said. "As we do every year, we took a hard look at our asset valuations and future earnings potential. When it came to DPA Brazil, Fonterra Brands New Zealand and China Farms, we saw there were either some changes in their local economies, increased competition or business challenges impacting their forecast earnings. Clearly, any write-down of an asset is not done lightly. But what I hope people can also see is that we're leading the co-op with a clear line of sight on potential opportunities as well as the risks."
Commenting on the underlying performance of Fonterra, Hurrell said Fonterra's normalised earnings per share for the year was 17 cents, which was above the last forecast for the year of 10-15 cents.
"The gross margin from our largest business, New Zealand Ingredients, was $1.3 bn, up 3% on last year due to increased sales and price performance. Our Foodservice performance also improved on last year, with gross margin up 10%. This was despite lower total sales volumes, following a slow start to butter sales in Greater China and Asia.
"But we can't ignore that we had a number of challenges across the year – these included Australia Ingredients, our businesses in Latin America and the consumer businesses in Sri Lanka, Hong Kong and New Zealand."
A three-point plan
In September 2018, Mr Hurrell set out a three-point plan – take stock of the business, get basics right and ensure more accurate forecasts. Reflecting on that plan, he said that it definitely helped focus the co-operative.
"As part of taking stock of our business we reviewed our asset portfolio and made significant calls on three assets we identified as no longer core to our strategy. We sold Tip Top for $380 million and our share of DFE Pharma for $633 million. We also wound back our relationship with Beingmate and are now looking at options to reduce our financial stake in this company.
"Taking stock of our business didn't stop there. We also exited our Venezuela businesses, announced the closure of our Dennington manufacturing site in Australia and kicked off a strategic review of DPA Brazil and two of our farm-hubs in China.
"We have contributed to China's dairy industry by developing high quality model farms. We made these investments as they were seen as necessary to protect our significant exports to China. Growing demand for fresh milk in China's consumer market suggests prices are likely to rise in the future – however, the timing is uncertain. As a result of this, and the fact that the development of these farms is now complete, we are looking at how we can best unlock the value in the farms.
"As part of the three-point plan, we also set a goal in FY19 to reduce our debt by $800 million. Tip Top made a significant contribution and, along with the sale of DFE Pharma, we expect to exceed this target in FY20.
"We also set ourselves a target to reduce capital expenditure by $200 million in FY19 and we achieved $261 million. We reduced our operating expenses by $185 million, year on year."
Focusing on New Zealand
Hurrell said the final big call for the year has been sharing the co-operative's new strategy.
"It's a strategy which recognises we are a New Zealand co-op, doing amazing things with New Zealand milk to enhance people's lives and create value for customers and farmers. It's a strategy that's rich in innovation, sustainability and efficiency. It unlocks value and sees us focusing on three goals – healthy people, healthy environment and healthy business.
"This is the right strategy for us, but it requires us to make some hard choices. We've looked at the big opportunities and risks for a New Zealand dairy co-op today. We've also got clear on what our strengths are and the hard realities we have to face up to. I'm pleased that we now have a strategy that is built from the belief that our farmers' milk here in New Zealand is the best and most precious in the world.
"Recognising this, while we will complement our farmer owners' milk with milk components sourced offshore when required, we will start rationalising our off-shore milk pools over time.
"Our strategy will see us focus on world-class dairy ingredients for our customers around the world, and innovative ingredients that meet nutrition needs right across people's life stages. We will focus on ingredient categories: Paediatrics, Medical and Ageing, Sports and Active, and Core Dairy.
"We will also create new opportunities in new ways for foodservice. This will include building on our foodservice success in China and developing new markets, particularly in Asia Pacific.
"This focus on dairy ingredients and foodservice will see us playing to our strengths and driving more value from the parts of our business that consistently perform.
"We will still be in Consumer and will focus on markets throughout Asia Pacific. The majority of the products we sell in these markets are made from New Zealand milk and are similar to those we sell in our Ingredients business. This creates efficiencies and helps us play to our strengths. It also means we will reduce our consumer product portfolio to those that create superior value."
Related content