Winners of the PPMA Awards revealed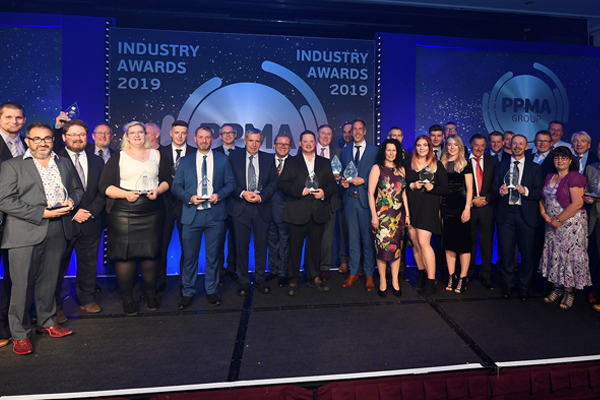 The processing and packaging machinery industry celebrated another year of outstanding achievement and business excellence at its eighth PPMA Group Industry Awards.
The awards recognise manufacturing excellence, technical innovation, entrepreneurship, customer service, sales and training support, as well as outstanding contribution to the processing and packaging machinery sector.
With 103 nominations received across 12 industry categories, the number of awards submissions this year was exponentially high, exceeding last year's previous record-breaking tally by 35%. Due to the volume and quality of the nominations received, the judging panel had to introduce a three-stage voting process.
The highlight of the evening was the announcement of two lifetime achievement awards – a first for the PPMA Group Industry Awards.  They were presented to Michel Podevyn, president of Spiroflow, and Chris Holland, managing director of Holmach, for their influence and long-standing service to the industry.
During his long and esteemed career, Michel became a pioneer of the flex screw conveyor for companies within the food, chemical and mineral industries, previously dogged by blocked filters.
He was also the brainchild of a bespoke heavy-duty filling station in the early 1980s for a new Falklands Island airport, which was later adopted by food and chemical companies across the world.
Thanks to Michel's commercial knowhow and ingenuity, Spiroflow's export business now counts for more than 50 per cent of its turnover.
Similarly, Chris' sharp rise to the fore in food research was recognised on a global level in the 1990s, after which he bought Peter Holland (Food Machinery) and rebranded it Holmach in 2000.
He made a significant contribution to the industry thanks to the introduction and spread of pasteurised ready meals. He also worked with European packaging suppliers to help eliminate plastics from ready meal production, and further helped to extend shelf-life and reduce food waste.
He remains a strong advocate for developing improved processing solutions and improving food standards.
Tim Paul, chairman of the PPMA Group of Associations, said: "Since its inception in 2011, our PPMA Group Industry Awards has become an established fixture in the calendar.
"In 2018, we received a record number of entries for our awards categories. This year, we exceeded that figure by 35%, so there was a lot to celebrate in October through hosting the largest ever PPMA Total Show and the biggest awards ceremony to date.
"The number and quality of awards is testament to the innovation, entrepreneurship and smart manufacturing synonymous with the processing and packaging industry.
"Even in these challenging times, it's clear that the processing and packaging industry continues to thrive and show signs of new green shoots.  I am proud to represent an industry that is helping to fly the flag for UK manufacturing," he added.
The PPMA Industry Award Winners 2019:
Apprentice of the Year Award
Winner: Jack Woolmer, METTLER-TOLEDO Safeline
Highly commended: Joe Bacon, Projex Solutions
Highly commended: Tobias Cowan, HepcoMotion
Environmental Initiative of the Year
Winner: Garçon Wines
Highly commended: Samson Nano by Samuel Grant Packaging
Exceptional Sales Performance
Winner: Colin Mear Engineering (CME)
Highly commended: Epson UK
Highly commended: Minebea Intec
Exporter of the Year
Winner: Farleygreene
Innovative Ancillary Equipment
Winner: Clearmark Solutions
Innovative Packaging Machinery
Winner: TrakRap
Highly commended: Brillopak
Highly commended: Rotech Machines
Innovative Processing System
Winner: Jenton Group
Innovative Robotics Solution
Winner: Brillopak
Highly commended: Universal Robots
Innovative Vision Solution
Winner: Scorpion Vision
Outstanding Customer Service
Winner: OAL
Highly commended: Cox & Plant
PPMA BEST (Business, Education, Skills and Training) Award
Winner: METTLER-TOLEDO Safeline
Highly commended: Evolution Bottling & Packaging Solutions
Lifetime Achievement Award (x2)
Winner: Michel Podevyn
Winner: Chris Holland
Related content