Mountainous land of cheese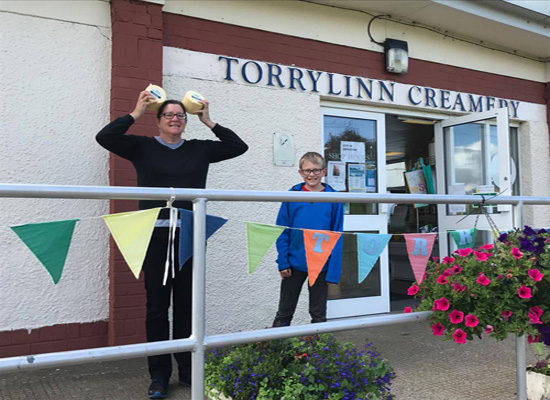 I was off on holiday last week, and went to visit Torrylin Creamery, a First Milk plant on the west side of the isle of Arran, up in Scotland. I know, it's a bit of a busman's holiday, but my husband also has an interest in cheese. They have a viewing window so you can see the production floor without having to resort to wearing the white wellies and hairnets.
At any rate, my family saw cheese makers hard at work below, and I explained to them what was happening as the milk churned in the vats. They make 200 tons of cow milk Arran cheddar cheese a year, and we bought two giant rounds of it to take home and scoff. It was a delight. We resisted the urge to buy the Arran island-shaped, wax-covered truckles. It would be a shame to ruin them by eating them. Another stop was the Arran Cheese Shop, with a selection of truckles in various flavours with additives. We brought home the smoked cheddar variety.
I do envy cheese makers in those beauty spots – I am sure there are days when it's cold, raining and miserable, but to be able to wander outside and see the beautiful sea outside the plant is a treat. We also visited the whisky distillery in Lochranza and the brewery too. It was a full foodie visit, in between scrabbling around looking at neolithic sites and geological formations. The weather largely held, too, so it was an overall delight up in bonny Scotland.
I did wonder about the size of the tankers Torrylin uses to collect the milk, as the roads are rather narrow and winding. We careened around the island a few times, and did have to stop once when a van had gotten stuck halfway up one of the mountains, blocking the entire road. We also stopped when yet another sheep wandered into the roadway. I would not recommend the island to those who like to get places fast. But it is a lovely place to go slowly.
Related content