Chelsea Pensioners join dairy industry to celebrate cheese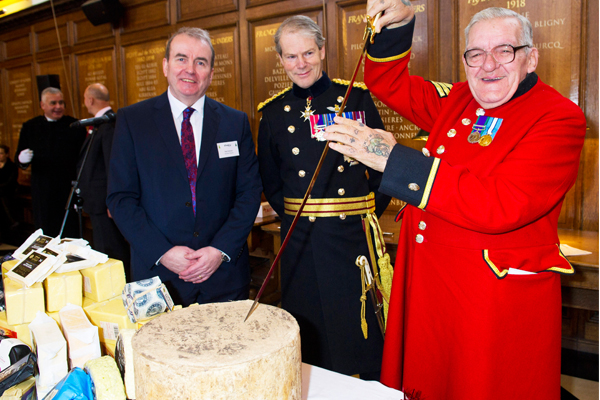 Chelsea Pensioner Alan Goddard cutting the ceremonial cheese at the ceremony. Dairy UK Chair Paul Vernon (L) and Governor of the Royal Hospital Chelsea Sir Adrian Bradshaw (middle)
The Chelsea Pensioners and Dairy UK today kicked off festive celebrations with the annual Ceremony of the Christmas Cheeses, with Dairy UK announcing innovative plans to champion the taste and nutrition of cheese.
British cheesemakers donated over 270kg of the finest cheeses from around the UK to the event, including cheddar, stilton, brie and red Leicester, and this year's ceremonial cheese.
Dairy UK Chair Paul Vernon used the ceremony to announce the launch of the Dairy UK cheese pairing app later this month, which enables consumers to pair Dairy UK member cheeses with whisky and port, to create the ultimate tasty cheeseboard combinations. Mr Vernon also pointed to the enduring popularity of cheese, citing figures showing that more than nine out of ten UK households purchase cheese.
Plans to create innovative social media content and use bloggers and influencers to promote the nutritional benefits of cheese were also announced, in a campaign beginning mid-December and running throughout 2019.
The traditional cutting of the ceremonial cheese (this year a giant 24kg of Montgomery Cheddar, donated by J A E Montgomery Ltd) was carried out by Chelsea Pensioner Alan Goddard.
Alan said: "I feel very pleased to have been chosen to cut the cheese at this year's ceremony and to be a part of a Royal Hospital tradition that dates back to its opening in 1692. Thanks to the generosity of Dairy UK in continuing this tradition, my fellow Chelsea Pensioners and I can enjoy these delicious cheeses over the festive period!"
Dairy UK Chair Paul Vernon also said: "There's no better time than the annual Ceremony of the Christmas Cheeses to honour our brave veterans as well as celebrate the great taste and nutrition of cheese, along with our excellent cheesemakers. It's the perfect start to the Christmas season."
Related content