Super cows show dairy truth in Germany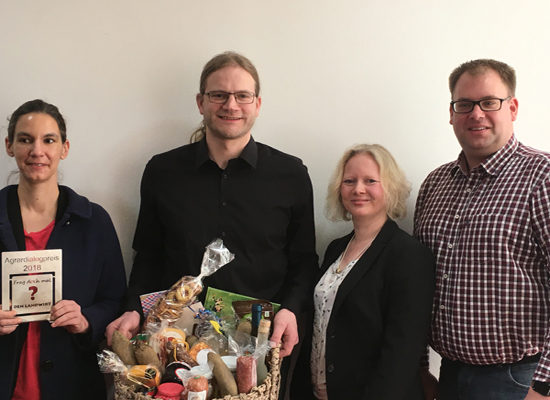 At a press conference titled, Germany is blossoming, in Berlin, the Agricultural Dialogue Award was presented for the first time by the farmer initiative, We keep you fed.
The award went to German TV channel WDR' project, Superkühe (Super cows). The award was accepted on behalf of the WDR team by Carolyn Braun, who programmed the live chat for the project.
"It is important to send a positive signal and to intensify and continue the dialogue despite all the contradictions and criticisms of agriculture. Super cows proved how this can be achieved," said farmer Bernhard Barkmann, who is a representative of the We keep you fed initiative.
"Westdeutscher Rundfunk made it possible for a team and the journalists Björn Erichsen and Jacob Vicari to show for four weeks how dairy cows are kept in Germany, in an Art Life documentary. In the process, problem areas such as calf separation were not excluded. Initial contact fears were quickly overcome, and out came a realistic picture of dairy cattle, as can be found every day on our farms. That was worth the first Agricultural Dialogue Award for us."
The We keep you fed farmers also described the discussion culture of the social media team of Super cows as competent, objective and neutral, in response to the sometimes violent comments in social networks. They thus managed to build a constructive dialogue of really interested people.
The Super cows project used data that has been collected in three farms for years for each individual animal with the help of sensors and incorporated into herd management. The sensors are partly worn by the animals, for example as a collar, but they are also part of the milking technique.
Additionally, Super cows used so-called Boli. These are small sensors that are supposed to convey information about the prevailing pH value from the digestive tracts of the animals.
For many farmers, sensor technology has been part of everyday life for years, albeit in a slightly different way. For the first time, the data has now also been made accessible and explained to the public with the aid of sensor journalism.
Related content