Only half of children are drinking milk at primary school, says Tetra Pak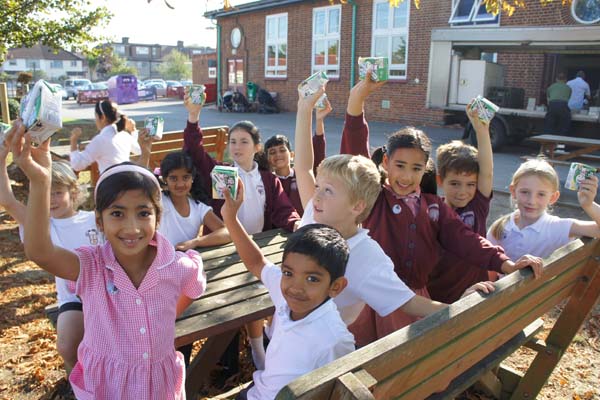 Tetra Pak research has revealed that 55% of primary aged children in the UK are currently drinking milk at school, with consumption levels declining further amongst pre-schoolers and especially in children aged nine and older.
The report entitled 'Making More of Milk', finds that over a quarter of parents (28%) say the main reason their kids are not drinking milk in school is because they are unaware their children are eligible for free or subsided milk, despite parents citing milk as a healthy and nutritious drink. Declining school milk consumption in the UK is worrying given the poor oral health of children, high child obesity levels and poor hydration choices of children.
In addition, the report finds there is overwhelming support for free school milk with 89% of parents and 93% of teachers saying all children in reception should be eligible for free school milk, even if they are aged five. The report calls for free school milk to be made available for all reception children in England for the complete school year instead of cutting access at each child's 5th birthday as is currently the case.
"With more than one in five children during their first year of primary school being overweight or obese in England, Scotland and Wales rising to more than a third by the time they start secondary school, there is a renewed focus on children's eating habits," says Stefan Fageräng, managing director North West Europe at Tetra Pak. "Children need a healthy balanced diet and as milk is a rich source of protein, calcium, Vitamin B12 and iodine, it is and should continue to be, a key part of our children's daily diet for a healthier future. School milk needs to be safeguarded and policy best practice shared across different parts of the UK to encourage greater uptake."
Tetra Pak's report, developed in consultation with industry groups, considers ways government, school milk providers, schools and parents can increase uptake and remove some of the stumbling blocks preventing greater consumption of milk at primary school. With Defra launching a consultation on the future of the school milk subsidy in England this year, the report is a timely contribution to the debate on how government and stakeholders can work together to better shape school milk initiatives, particularly with the UK withdrawing from the European Union.
The independent research found that whilst government and European milk schemes provide valuable support and ultimately nutritional benefit, these have not guaranteed that all school children have access to milk at school. The report recommends schools are further encouraged to make milk available throughout the school day. The research found that currently 30% of teachers say their school is not making low fat milk available at least once a day, despite guidance to do so included within the School Food Standards.
The report suggests making single portion milk servings available as a mid-morning snack would encourage children to drink milk, while making it simpler to distribute. While milk is provided with free school meals, qualitative research conducted with over 200 children in Warwickshire indicated that some children find milk is too filling to accompany meals and is better consumed as a snack at break time.
"Providing chilled milk in individual cartons during the mid-morning break is the best way for schools to meet the obligations set out in the School Food Standards. This helps ensure that milk is provided in a way which appeals to school children, who are able to enjoy a nutritious and tasty drink to keep them going until lunch," explains Doctor Hilary Jones, spokesperson for the School and Nursery Milk Alliance.
Recent changes to the Eatwell Guide have resulted in questions around recommended dairy intake. The proportion in the guide allocated for dairy products is less than in previous years, however milk is listed as a recommended drink. The report recommends ensuring all nurseries and schools are communicating to parents, kids and teachers about the recommended types of milk, daily portion sizes and benefits of milk. Information should be provided for parents to improve awareness about their right to ask for free or subsidised milk and how they might easily be able to secure this for their children.
Over 90% of parents are happy with every aspect of school milk including the choice, price, packaging and quantity. However, there is always room for improvement with almost a quarter (24%) of parents wanting to link 'milk time' to story time and around one in five want it linked to an educational activity (18%). Teachers believe that milk time could be improved with more choice of different types of milk (26%), more recycling bins (38%) and for milk to be less messy or only given out on demand (25%).
Related content