Meadow milk charter for German Arla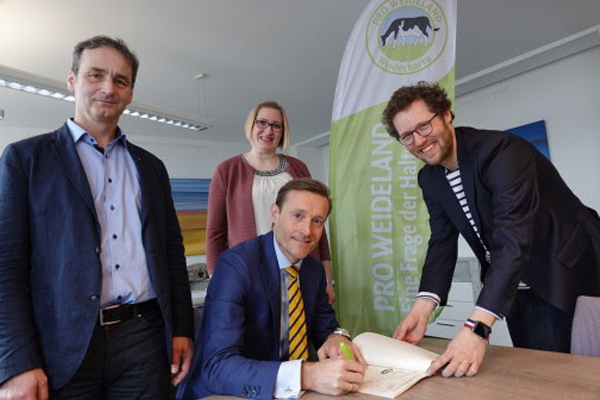 Arla Foods has signed the pasture charter of the Pro Weideland programme in in Germany. The company allies with nearly 30 institutions that want to strengthen grazing as nature-oriented husbandry, with its positive influences on environmental protection, animal welfare and biodiversity.
This will work to strengthen the meadow milk segment, which has recently been slightly reduced. The meadow milk plays an important role in Arla's product portfolio in Germany, where Arla organic meadow milk relies on the successful combination of the meadow concept with organic milk. In addition, meadow milk is marketed under the regional brand Hansano.
To receive the Pro Weideland quality seal, Arla Foods must push the production requirements even higher: Every dairy cow must have 2,000 square metres of forage available in the future. This is defined as permanent grassland that has a positive impact on the environment and biodiversity, or alternatively as a renewable grassland, where farmers make an additional contribution to biodiversity by, for example, planting flower strips.
"With the introduction of the label we want to increase the requirements for our meadow milk in line with our recently published sustainability strategy. Because grazing contributes to the biological diversification and grassland is preserved as carbon storage. The criteria of the Pro Weideland seal are now part of our Arla Weidemilch standard – ie all Arla farmers must produce their meadow milk according to these specifications. From June the seal of quality will be used on our fresh Hansano meadow milk. Especially in this area, we want to boost sales and marketing by introducing the recognised label," said Kasper Thormod Nielsen, head of corporate communications and public affairs at Arla Foods in Germany.
The label has been on the German market since mid-2017. The quality seal regulates and controls the production and processing of meadow milk in Germany, as there are no uniform criteria in the EU so far for this type of milk production.
Dairy farmers participating in the programme undertake that their cows have freedom of movement throughout the year and graze for at least six hours on pasture for at least 120 days.
Related content