Thoughts over coffee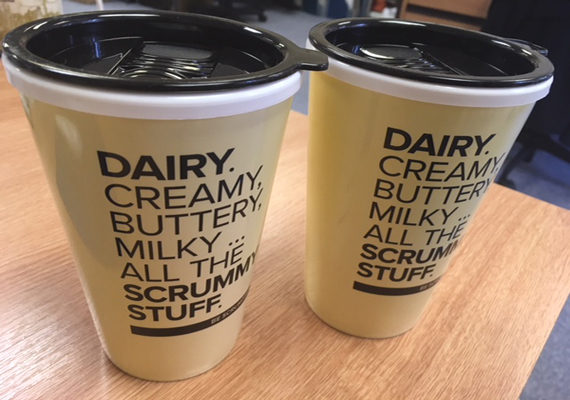 I was drinking my morning coffee in my adorable AHDB travel mug on the school run. As was discussed at the Dairy UK conference last week, my personal dairy intake is often delivered on a "carrier." Today, the dairy industry provided the carrier for my carrier coffee and my semi-skimmed milk along.
Indeed, my new calorie counting app told me that I do a good job of fitting butter in my plan. Apparently, "Butter may help you stay on track!" as it keeps me fuller for longer and takes a long time to digest. Truthfully, I will always have room for butter in my plan. It was similarly enthusiastic about my post-workout glass of milk.
So, these are small things, but they add up. And that was what the Dairy UK conference was about, increasing the opportunity for people to ingest dairy in ways that optimise their nutrition, and make sense. It is about making dairy a pleasure to take in, not a chore. Let's face it, there is nothing nicer than a piece of toast with butter and marmite, or marmalade. And working with apps to encourage people to have dairy with their diets (the app is also pleased I eat a lot of tomatoes too), is not a bad idea.
So, Dairy UK encouraged people to aim at the millennials. Or is it Generation Z? The fact that 96 per cent of the nation's refrigerators contain dairy is an encouraging statistic. As the providers of cheap, nutritional food, it is key that the dairy industry ensures that this number stays high. One cube of delicious cheese, one teaspoon of lovely butter, a scoop of ice cream and two tablespoons of milk at a time. It all adds up. Watching the pence delivers the pounds, as the saying goes. Let's deliver the dairy.
Related content