Germany exports see upticks in Mexico and China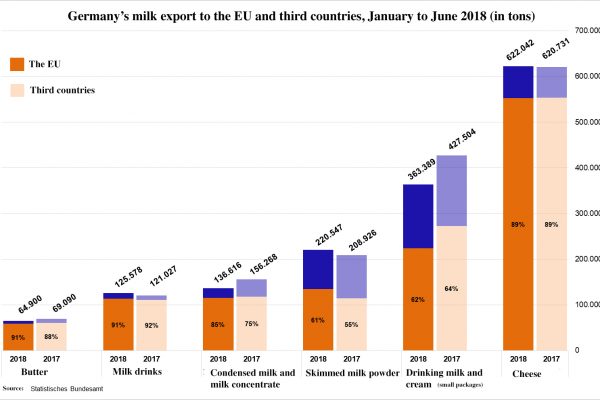 Exports in the first half of 2018 were relatively modest from the point of view of German dairies, according to the German Export Union for Milk Products.
In some cases, export volumes of dairy products also lagged behind the previous year's level due to strong international competition, such as exports of condensed milk. However, bright spots were seen in skimmed milk powder and mixed milk drinks.
Even though the quantities of cheese exported from German dairies were just short of the previous year's level throughout the world, this is nevertheless positive, since the quantities are at a very high level.
The summer drought has a firm grip on the north and east of Germany in particular and will have an impact on feed availability and thus on milk production as the year progresses. Added to this is the seasonal decline in milk deliveries until November. The resulting shortage of raw materials could lead to higher prices. In export business, US sanctions are creating opportunities for German exporters, in countries such as Mexico and also China. Strong competition and the development of various currency relations point to a challenging second half of 2018 in exports, according to the export union.
In Germany, in the first six months of 2018, 363,000 tons of milk and cream were exported in small packages (less than two litres). The remaining EU member states accounted for around 50,000 tons less than in the previous year (-17.8%), of which 16,000 fewer were in Belgium alone (-29%).
In third countries, around 16,000 tons less (-10%) were exported during the same period. The biggest decline is for China with about 15,000 fewer tons (-15.7%) of imported milk.
Middle Eastern countries such Jordan, Saudi Arabia, Oman and Yemen also fell short of expectations. Although Qatar was significantly more interested in milk from Germany, it only reached 860 tons. The demand of the United Arab Emirates, with 6,500 tons, the largest consumer of German drinking milk in the region, was also around 9% down on the previous year.
Exports of unsweetened condensed milk or milk concentrates also lost quantity compared to the same period of the previous year (-13 %).
In particular, third countries were less interested in goods from Germany, which is why only 21,000 tons were exported instead of the previous year's 38,700 tons (-45.5%). Demand from Libya has plunged from 20,000 tons to almost 2,500 tonnes. Qatar, which was still a promising destination at 3,500 tons last year, has so far limited itself to 240 tons this year.
Within the EU, development of exports to Poland was positive, with demand of more than 30,000 tons, about 37% more than in the first half of 2017, and to the Netherlands, where slightly more than 30,000 tons also accounted for about 13% more condensed milk.
Around 221,000 tons of skimmed milk powder from Germany were sold worldwide between January and June 2018, up by 5.6%.
Within the EU (+17%), neighbouring countries such as Italy (+33%), Poland (+30%), France (+22%) and the Netherlands (+20%) particularly asked for larger volumes.
By contrast, interest in direct exports in third countries declined compared to the previous year (-8.8%). Major losses were recorded for exports to the Philippines (-75%), Vietnam (-60%), Indonesia (-55%) and China (-29%) also, due to pronounced price competition on the international markets.
German cheese exports, at a very high level of 622,000 tons, have so far remained virtually unchanged (+0.2%).
The slight increase (+3.6% to 69,400 tons) in export volumes to third countries kept the total at the previous year's level.
Italy remains the world's most important trading partner with 126,600 tons (-0.8%).
About 17% fewer tons (5,200 tons) of German cheese were exported to the US than in the previous year. It was a little more to Canada, but the amount increased from just 137 to 244 tons. Japan, on the other hand, continued to develop very positively. The quantities now amount to more than 11,000 tons (+26%). It remains questionable, however, to what extent this is to be seen in the light of the EU-Japan free trade agreement, as tariffs for cheeses to Japan will remain quite high for the first years of the agreement.
Chile has also become an interesting destination in recent years, with about 7,400 tons (+ 17%) of cheese from Germany going there in the first six months.
Due to the very high price level and scarce availability in the first half of the year, Germany, with an export level of almost 65,000 tons, sold less butter. Worldwide, German butter exports fell by 6%, within the EU by 3.5 % and in third countries by as much as 25%.
Increased demand from the Netherlands (+35%), already the most important buyer of German butter, reduced losses for German dairies.
The US ordered 700 tons, less than half of the previous year.
Related content