IMA Dairy & Food unveils new strategy & aspetic centre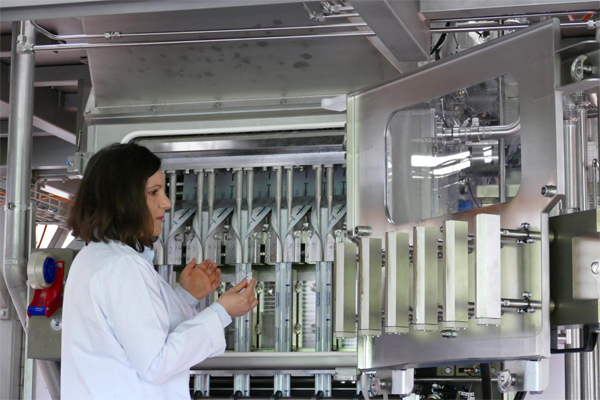 IMA Dairy & Food, which is comprised of brands Gasti, Hamba, Hassia and Erca, held a press briefing during which its new majority owner, Thomas Becker, presented his strategy for the company group's realignment.
Moving forward, the brands will act independently in the marketplace, and their individual market identities will be strengthened by offering additional solutions across a broader set of niches. For example, Hassia Verpackungsmaschinen will expand its portfolio to include high-speed filling and sealing machines for pre-formed cups and bottles from Hamba, and its range of stick pack machines will be complemented with non-aseptic execution equipment and sachet machines. Erca, based in the Paris suburb of Les Ulis, added to its machine portfolio the rotary 'Gyro Cup' filler and the newly developed 'Flex Cup' filling and sealing machine for pre-formed cups and tubs.
The portfolio expansions should enable the two companies to better fulfill customer demands in their markets and offer a broader array of solutions. Meanwhile, Gasti will continue focusing activities on its well-known filling and sealing machine portfolio.
At the end of Q4 2018, IMA sold 60% of the filling business in its IMA Dairy & Food Group, comprised of Erca, Hamba-Gasti, Hassia, and IMA Dairy & Food USA Inc. In introducing Mr. Becker, IMA Dairy & Food is showcasing a deeply experienced majority shareholder intimately familiar with the packaging machinery business, and with a reputation for helping companies quickly regain sustainable success.
Becker said: "I am very pleased about this partnership with IMA and, of course, especially with the owner family Vacchi. IMA Dairy & Food, represented by the brands Erca, Hamba-Gasti and Hassia, continues to have a strong market position in the field of form, fill and seal machines as well as fill and seal machines. They are famous brands in this market segment well-known around the globe with further growth opportunities. I see this investment as a commitment to further developing the group and, of course, as a challenge that I will face with passion and dedication."
Aseptic Competence Center
IMA Dairy & Food has also established an Aseptic Competence Centre at its Ranstadt premises, following increased consumer demands for extending the shelf lives of sensitive products without using preservatives. The new venture offers customers comprehensive packaging line solutions from initial planning to configuration, testing and integration – all from a single source. The aseptic team also handles validation, troubleshooting, inspection and existing plant optimisation.
Related content