MIV lauds butter and elects board members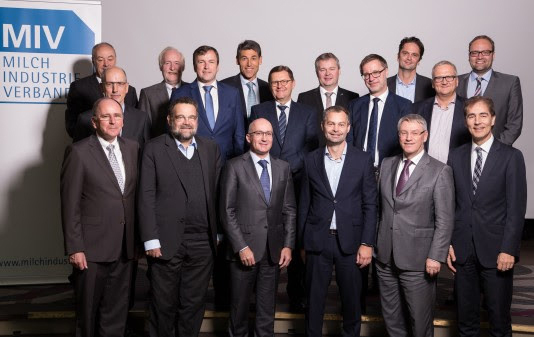 "Butter was the price breaker of the year and in a positive way," says Eckhard Heuser, CEO of the German dairy industry association MIV (Milchindustrie-Verband). Its annual conference reported on a satisfactory year with the most varied developments in the individual market segments.
During the year cream and butter prices went through the roof and made good use of the raw milk. However, the fat market has calmed down considerably since and enough goods are available for the Christmas business.
In particular, the cheese sector has been able to stabilise the German milk price significantly. Over 50% of German milk goes to cheese production and over half of the cheese is marketed abroad.
The prices for cheese have developed positively and affected milk pay, so for this calendar year the MIV expects an average milk price of €0.36 cents/kg based on a fat content of 4%.
The association looks to Brussels with interest. The next steps in the reform of the Common Agricultural Policy are already being planned there.
Difficult are also the plans in relation to the Brexit, as the UK is a major customer of German dairies and the association is committed to a liberal approach to Brexit trade issues.
Brussels is also preparing free trade agreements with many countries, including in the dairy sector. This may make sense for countries with import needs, but the MIV warns against free trade agreements with pure exporting countries such as New Zealand.
The outlook for the end of the year and 2018 is difficult: although the purchasing power in Germany is present and the acceptance of milk and dairy products is very large, the milk volume development is difficult to estimate. It is important to take the still positive price picture from 2017 into the new year – for the benefit of dairies and their affiliated milk producers.
MIV represents about 80 companies in the German dairy sector with an annual turnover of around € 20 billion. The annual meeting MIV also elected executive board and chairman for the coming year. New in the board are Jan Kruise from FrieslandCampina Germany (successor to Peter Weltevreden), Philipp Guht from Mondelez Germany (follows Fridolin Frost) and Reinhold Schlensok from Meggle (follows Sil van der Ploeg). Peter Stahl from Hochland SE in Heimenkirch was again unanimously elected as chairman. Among the re-elected was Jakob Ramm, who therefore stays in the post as treasurer.
Related content